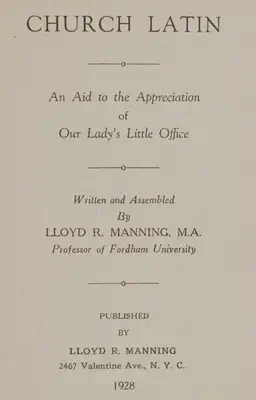 CHURCH LATIN: An Aid to the Appreciation of Our Lady's Little Office
Written and Assembled By LLOYD R. MANNING, M.A., Professor of Fordham University
PUBLISHED BY LLOYD R. MANNING, 2467 Valentine Ave., N. Y. C.
1928
It is available on the Internet Archive - currently only for loan, but hopefully to download as of 1st January 2024.
Rachel from Learn Church Latin has scanned the book and discusses it at the end of this article on Textbooks for learning the Latin of the Divine Office. I processed these scans to make this black and white version but the edges of some pages are unreadable. So I'm left with the idea of typing it up here.
For more on the Little Office of the Blessed Virgin Mary see littleoffice.brandt.id.au
This is a Kids Chant project.